Recovery Reunion Under the Sun
Recovery Reunion Under the Sun
September 9 @ 11:00 am

-

3:00 pm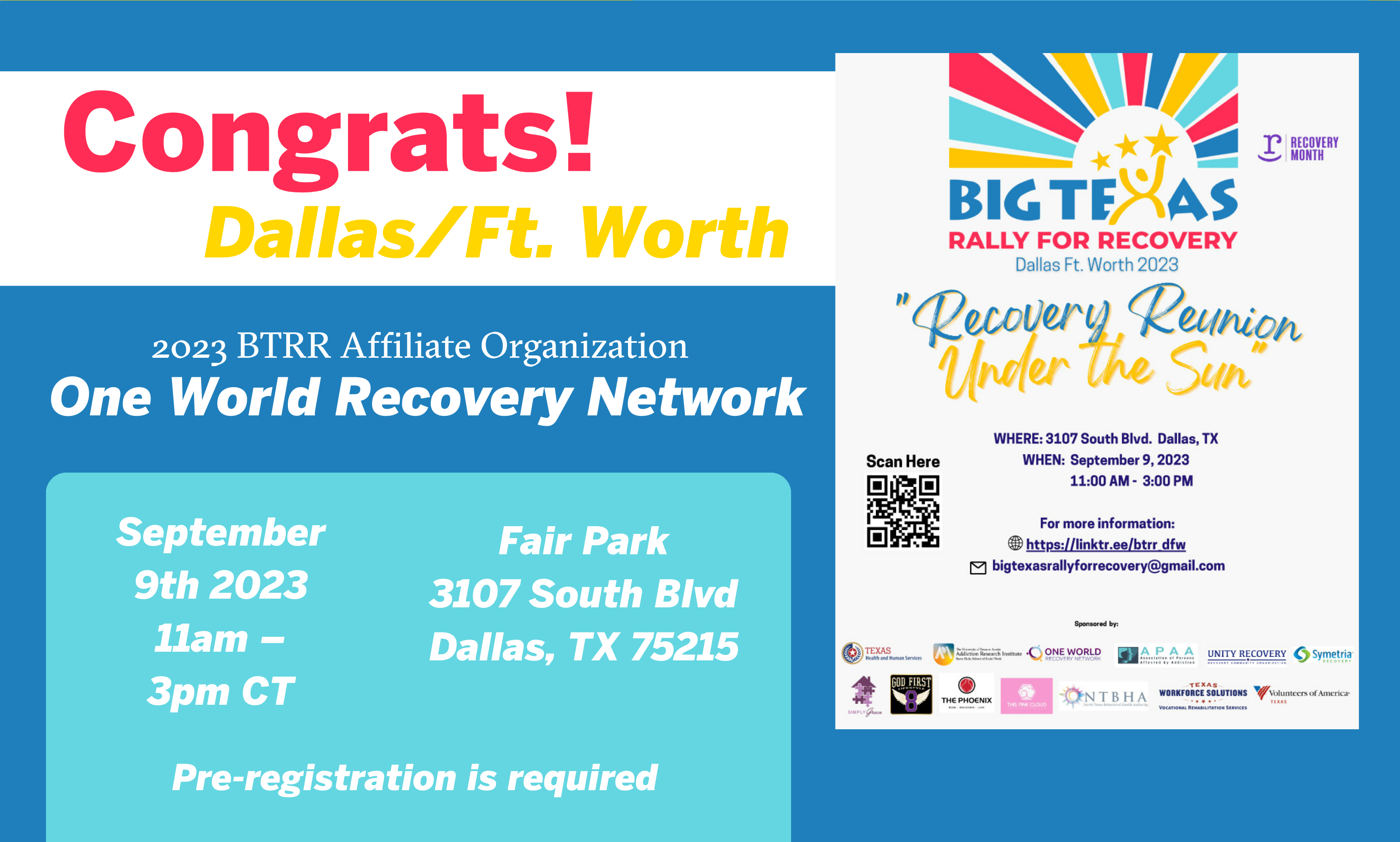 On September 9, 2023, friends and families across Texas will gather in Dallas / Ft. Worth for a day filled with fun, family and friends as we celebrate the 34th Anniversary of National Recovery Month.
We will gather for this year's rally in the Fair Park community. In light of the gathering place and historical purpose of the Rally, this year's theme is "Recovery Reunion Under the Sun." The theme highlights our goal to educate the community about recovery, diminish the stigma around substance use and mental health challenges, and amplify the voices of people in recovery across the nation.
We thank our BTRR Affiliate, One World Recovery Network, for organizing this event!
3107 South Blvd
This is a FREE community event, register below to attend!
When
September 9th 2023
11am – 3pm
Where
Fair Park
3107 South Blvd
Dallas, TX 75215, USA
_____________________________________
The University of Texas Addiction Research Institute is handling coordination of events and distribution of the HHS funds to support local rallies this year. An application process was put into place and 10 community organizations were selected to become official BTRR Affiliate Organizations and host a rally.
For more than 30 years, during the month of September, communities, and local organizations from across the country host celebrations in honor of the National Recovery Month observation. These activities take many forms that bring public attention to recovery and challenge negative attitudes, stigma, and discrimination.
For more than a decade, a vital part of this tradition has included the Big Texas Rally for Recovery – a celebration for recovery of individuals, families, and entire communities across Texas.
We are planning great music, comedy, storytelling, dance, food. Dignitaries from the national recovery movement, public officials, and persons in recovery, families, community supporters, speakers, and friends of recovery will all join the celebration to inspire and replenish our passion for recovery.  More details still to come!