Undergraduate Research Assistant
Volunteer Application
The Addiction Research Institute is always looking for student volunteers to help with research, advocacy, community engagement, and much more.
Thank you for your interest in supporting the innovative work being done at the ARI. Our student volunteers are an integral part of our work and support us with various tasks including, but not limited to, staffing events, conducting literature reviews, analyzing quantitative and qualitative data, working with our policy team, and engaging with the community. We are always looking for motivated student volunteers interested in making a difference in the substance use field. If this sounds like you, please consider joining our team!
See below for more information!
Before applying, please make sure you meet the following requirements. Only applicants that meet these criteria will be considered:
Must be an undergraduate student at UT-Austin. We are not accepting applications from graduate students, undergraduates from other colleges or universities, or members of the community.

If you are a freshman, please wait to apply until the start of the spring term. Fall freshman applications will not be accepted or reviewed.

Must commit to volunteering for 1 calendar year with the ARI (not including summer)

Must be available to volunteer a minimum of 10 hours/week.

Must have GPA of 3.0 and above.
To Apply:
What you need to apply: The completed Undergraduate Research Assistant Volunteer Form and your Resume.
Click on the blue button to the right and fill out the downloadable Undergraduate Research Assistant Volunteer Form. Click on the gray boxes in order to submit your answers
When ready: Please email your completed UGRA Volunteer Form and Resume to addiction@utexas.edu with the email header, "ARI UGRA Volunteer Application' and your First and Last Name.
We look forward to working with you! If you should have any questions, please reach out to addiction@utexas.edu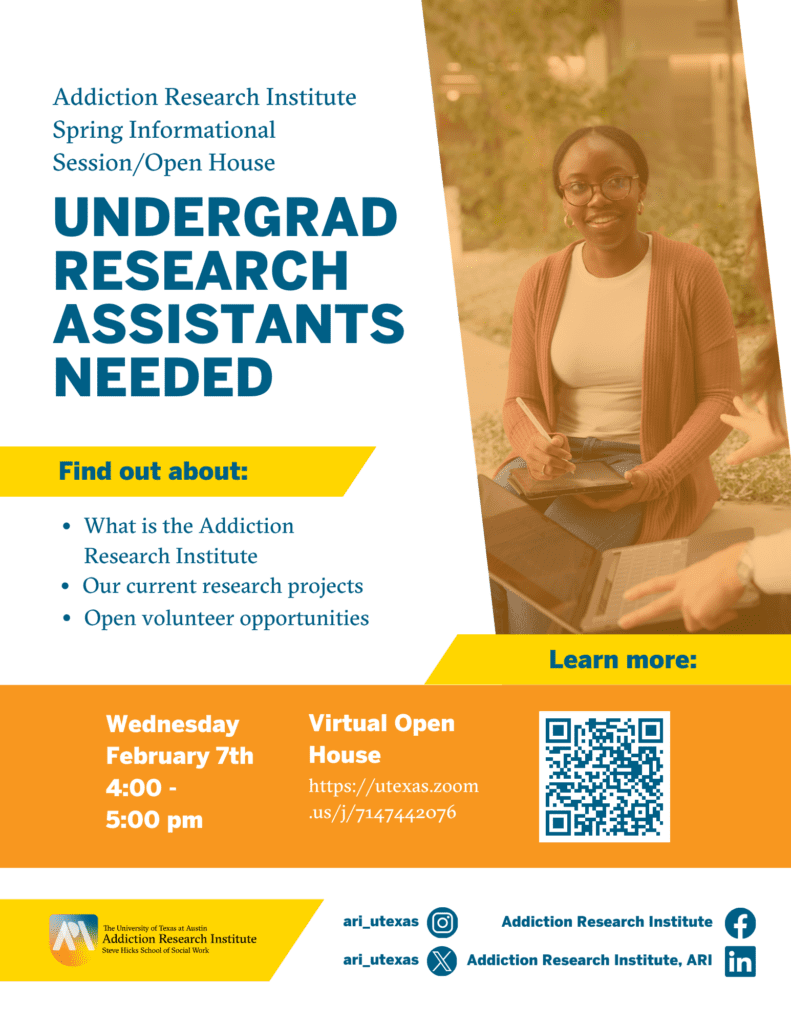 Join us on Feb. 7th for the ARI Informational Session/Open House
UT Austin Undergraduates are welcome to join us for our Informational Session/Open House in Spring 2024. Students can learn what the ARI is, who we serve, our current research projects, and upcoming volunteer opportunities.
Wednesday, Feb. 7th, 4:00 – 5:00 pm Central Time
Join the virtual open house: https://utexas.zoom.us/j/7147442076