Retreat & Renewal: Mindfulness Training for Behavioral Health Professionals
Retreat & Renewal: Mindfulness Training for Behavioral Health Professionals
July 21 @ 9:00 am

-

4:30 pm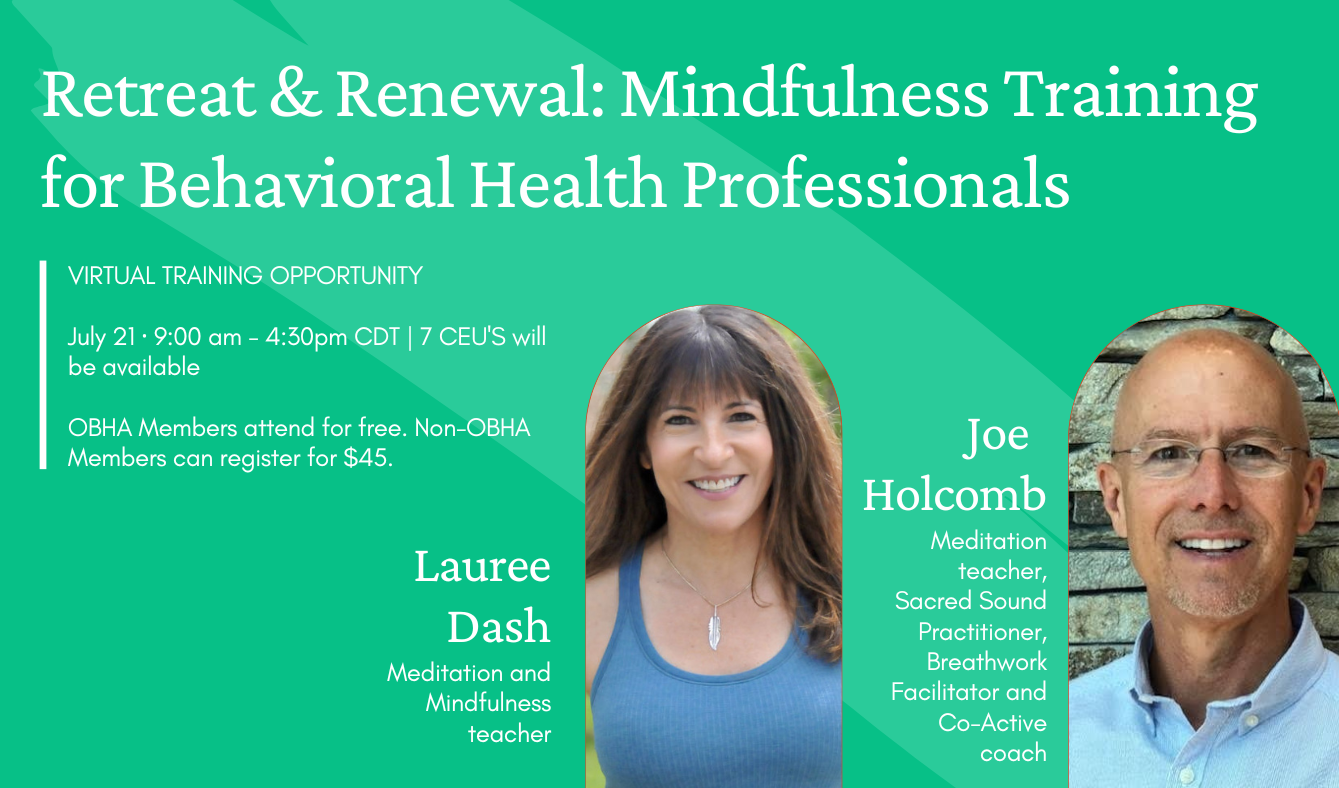 Retreat & Renewal: Mindfulness Training for Behavioral Health Professionals
Friday, July 21 · 9:00 am – 4:30 pm CDT
Training Description
Join Mindfulness and Healing Practitioners Joe Holcomb and Lauree Dash for a very special day of self-care, "Retreat and Renewal." This day-long, experiential retreat will feature teachings including Mindfulness Anchor Meditation, Everyday Peacefinder Practices, Mindful Eating, Mindful Self Compassion, and a Meditation for Difficult Emotions. As a special bonus, you will experience practices that calm and strengthen your own emotional nervous system, prevent burnout, and increase resilience like Breathwork and a Yoga Nidra with Sacred Sound Healing. This is not only an opportunity to become aware of modalities that will be beneficial to your clients, but also an opportunity for you to learn, grow, and embrace your own true nature in a more mindful and meaningful way. Retreat and Renew with us because everyone needs a little "R and R."
Details:
In-person attendance only. Lunch will be provided.
7 CEU'S will be available to LPC, LCSW, LMFT, LADC, CPRSS, CPS, and CM's.
OBHA Members attend for free. Non-OBHA Members can register for $70.
Trainers:
Joe D. Holcomb, an Oklahoma native, is a meditation teacher, sacred sound practitioner, breathwork facilitator and Co-Active coach with a passion for bringing mindfulness practices to patients, caregivers, co-workers, businesses and the community.
Joe obtained two bachelor's degrees at Oklahoma State University and his master's degree at Oklahoma City University. He has spent the last 5 years studying with teachers at the McLean Meditation Institute, Sedona Crystal Temple, Inspired Sedona, Dr. Sears' Wellness Institute, MMI Mindful Training Company and the Co-Active Training Institute to go deeper in meditation, sound, breathwork and coaching.
There are 5 essentials to any mindfulness practice: 1) thoughts are ok, 2) let go of expectations 3) be kind to yourself 4) don't try too hard and 5) stick with it. It is through a regular practice of meditation and mindfulness that a new relationship with yourself is born.
Joe offers one-on-one sessions, group classes, and corporate programs.
************************************
Lauree Dash has been teaching Meditation and Mindfulness in Oklahoma City for over 5 years. She teaches for the INTEGRIS Cancer Institute, The Oklahoma Association of Community Action Agencies, Public Strategies, Chesapeake Energy, Soul Yoga OKC, and privately to clients all over America. In addition, Lauree has presented for the Oklahoma City Chamber of Commerce, Calm Waters Counseling Center, and to the ASTEC Charter School Staff and teachers.
She is a graduate of the 2-year Mindfulness Meditation Teacher Certification Program [MMTCP] with Master Teachers Jack Kornfield and Tara Brach through Berkeley's Greater Good Science Center. She holds an additional certification through the 400 – hour Teacher Training program at "The Den Meditation Center" in Los Angeles, CA. She has studied Mindfulness and the Heart Practices through the UCLA Maps Program, completed Compassion and Forgiveness Trainings and is currently finishing her training in Mindful Self Compassion, the work of Kristin Neff and Chris Germer.
In the world of yoga, Lauree holds an Advanced Certifications in the Integrative Amrit Method of Yoga Nidra as well as certifications in the Satyananda format with extra studies in storytelling. She took her 200-HR Yoga Teacher Training with Soul Yoga OKC's Allison Candelaria and Lauree created and leads the Meditation Module of Soul Yoga OKC's teacher training.
Lauree's husband, Oklahoma native Ford Austin, is a Level 1 Trauma Survivor resulting from a catastrophic car accident. Because of that life-changing experience, Lauree has become especially passionate about bringing meditation teachings and practices to the healthcare community including patients, caregivers, and all healthcare professionals. Lauree co-created a program of mindful wellness practices as part of the integrative medicine offerings offered to cancer patients at the INTEGRIS Cancer Institute.
About the Oklahoma Behavioral Health Association:
OKLAHOMA BEHAVIORAL HEALTH ASSOCIATION MISSION IS TO SERVE IT'S MEMBERS, PROMOTE ADVANCEMENT OF EFFECTIVE, HIGH-QUALITY BEHAVIORAL HEALTH AND ADDICTION TREATMENT SERVICES AND ADVOCATE FOR PEOPLE IN NEED OF CARE.