The Undoing: Building New Skills in Advocacy, Prevention and Intervention
The Undoing: Building New Skills in Advocacy, Prevention and Intervention
September 22 @ 8:00 am

-

4:00 pm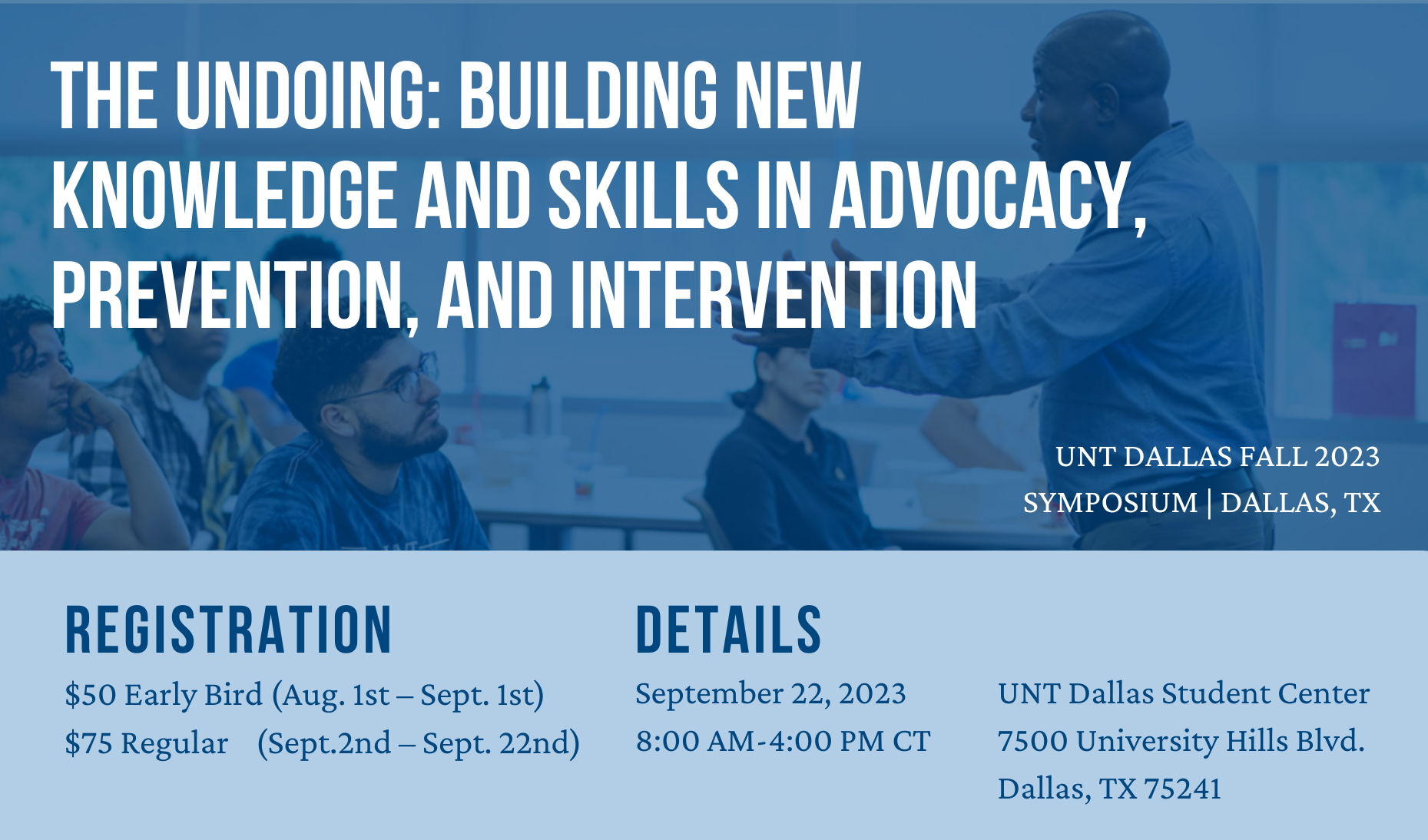 Join the Conversation on Youth & Mental Health at the 2023 BHHS SYMPOSIUM 
The 2023 Behavioral Health and Human Services Symposium seeks to educate and develop the knowledge, skills, and attitudes of professionals and paraprofessionals who work with children and youth. The goal is to provide educational and training activities that engage students and community-based organizations in gathering and sharing information. We will explore the roles that racial, social, emotional, psychological, and economic barriers have on the mental well-being of minority populations challenged with adverse behavioral health. We hope participants will reflect on how we build new knowledge on the canvas of our lived experiences.
The Symposium's theme comes from The Daily Undoing: Being Better at Being Human by David Gaudet.
September 22, 2023, 8:00 AM-4:00 PM
CT
UNT Dallas Student Center, 7500 University Hills Blvd. Dallas, TX 75241
$50 Early Bird (Aug. 1st – Sept. 1st), $75 Regular    (Sept.2nd – Sept. 22nd)
Perched on a hilltop, overlooking the Downtown Dallas skyline, the University of North Texas at Dallas is the only public, accredited 4-year university in the City of Dallas. Serving Dallas Fort Worth – the No. 1 job market in America, according to Forbes – UNT Dallas has served as a pathway to social mobility since its establishment in 2010.
We offer our students the most affordable tuition plans in the Dallas region, helping them blaze their trail toward a bachelor's, master's, or juris doctoral degree while minimizing student debt. Our value-based education is accompanied by innovative, high-quality academic programs that include opportunities for rich experiential learning.
At UNT Dallas you can expand your worldview, positively impact the local community, learn leadership skills, play sports, and more. The Office of Student Life provides students an educational, holistic, and innovative environment to discover more about themselves, their peers, and the world we live in.  An intercollegiate athletics program launched in the 2020-21 academic year with men's and women's teams in basketball, cross country, and track. Additional sports, including men's and women's soccer, will be added in coming years.
Our students also benefit from our many partnerships with non-profit organizations, school districts, community colleges, and local business partners, which allow us to expand educational access and provide unique learning opportunities for our students.