Prevention Month: Where We Are and What We Can Do
October is National Substance Misuse Prevention Month and National Youth Substance Use Prevention Month. It's important to acknowledge this month as a time of healing in remembering those in recovery as well as the friends, family, and community who support them as well as appreciate the hard work of behavioral health professionals who work hard every day to prevent and treat substance use in our communities.
During this month, there are a plethora of resources and data to review and share to help us make informed decisions for modern prevention and treatment practices.
SAMHSA, the Substance Abuse and Mental Health Services Administration is celebrating 10 years of their 'Talk. They Hear You.' campaign to help bridge the gap between kids and adults talking about underage drinking and substance use. This prevention campaign works to strengthen protective factors and reduces risk factors in individuals, families, schools, communities, and across society.
Past and Present
In October 2011, then-President Barack Obama issued a proclamation designating October as National Substance Use Prevention Month. In this 2023 proclamation, President Biden noted that his administration has budgeted $3.5 billion for youth prevention programming, an increase of over $800 million from the year before.
In 2022, over 111,000 people in the U.S. died due to non-reversible overdoses; 1,000 of those deaths were attributed to children 18 years and younger.
As highly potent synthetic opioids like fentanyl are seen more frequently in pills, the opioid crisis continues to absolve our country, leading to more underage deaths. Quoted in a recent NPR article, students in high school and college are taking unknown-laced drugs and experiencing overdoses at an unprecedented rate.
As the CDC reported, "Overdose deaths among persons aged 10-19 years increased 109% from July-Dec. 2019 to July-Dec. 2021." Fentanyl deaths in teens increased 182% during this time and 90% of those deaths involved opioids.
While state and local policy has increased to help curb tobacco and marijuana use, the invention of vape products allows underage users to easily access substances. A new documentary focusing on the Juul e-cigarette, released on Netflix on October 11th, 2023, includes data and information on how they targeted underage kids.
"They don't set out to reignite an epidemic of teen smoking, but the byproduct of their work is that an epidemic of teen smoking is reignited," R.J. Culter, director of the documentary Big Vape: The Rise and Fall of Juul said.
Dr. Cheryl Healton, Founding Dean of the School of Global Public Health and Professor at New York University noted in the documentary, "The truth is the overwhelming majority of people who smoke began their tobacco use as teenagers."
According to the National Institute of Health, children who begin smoking or drinking – using cigarettes and alcohol use early in life – have a much higher risk of being dependent on drugs and alcohol later in life. Using early is also linked to school failure, crime, injury, and mortality.
While underage drug use causes a high percentage of deaths, more and more teens use alcohol before age 21. The overall trend showcases a decrease in alcohol use amongst U.S. high schoolers over the past 50+ years with an increase in use over the past 2 years, since the 2020 pandemic.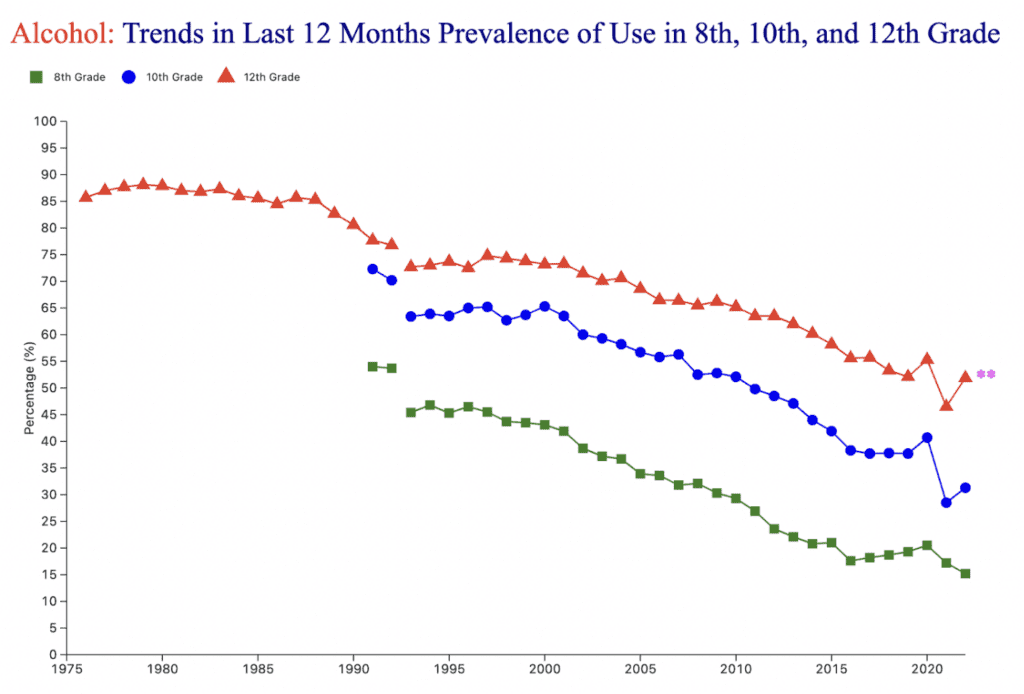 Substance use and alcohol use are most prevalent in adults but many adults can pinpoint the start of addiction to their teen years. The earlier a person drinks or smokes, the greater the probability of addiction in later life.
According to The National Child Traumatic Stress Network, 9 out of 10 people who abuse or are addicted to nicotine, alcohol, or other drugs began using these substances before they were 18. Those using before age 15 are nearly 7 times likelier to establish a substance use problem than those who delay use until age 21 or older. Every year that substance use is delayed during the period of adolescent brain development, the risk of addiction and substance abuse decreases.
Substance use in adults continues to evolve. As noted by SAMSHA, fentanyl is making its mark on the opioid epidemic while there is also a resurgence of methamphetamine. The risk of overdoses is now elevated as illicit drugs increase in potency and lethal consequences.
Prevention Efforts
Prevention from behavioral health providers has helped teens make informed decisions regarding substance use, making a difference in many recovery communities.
Prevention in adults includes having active conversations about substance use and its risks. When needed, using SBIRT intervention can help prevent and reduce the social harms of substance use and even prevent the progression of a substance use disorder. Find more information on SBIRT and adult prevention efforts at SAMHSA.
This year marks the 10th anniversary of SAMHSA's "Talk. They Hear You." campaign which focuses on providing parents, teachers, and community leaders with the information they need to help prevent substance use in teens and children. With videos, posters, flyers, classroom curriculum materials, presentations, and more, providers and community leaders can more quickly access and share information with those who need it most. Share the campaign with those around you who help make a difference in the community and challenge yourself this month to read and access materials from the campaign to better educate and learn about prevention efforts you can do in your own community!
The South Southwest PTTC (Prevention Technology Transfer Center) released new data on LGBTQ+ adolescent substance use on September 29th, 2023. In their hour-long presentation, PTTC members dive into information in regards to gender expression and identity along with instructing viewers about how new data on LGBTQ+ teens and substance use is translated into their experience and identity.
Watch the presentation below and check out SSW PTTC's additional resources on prevention and substance use.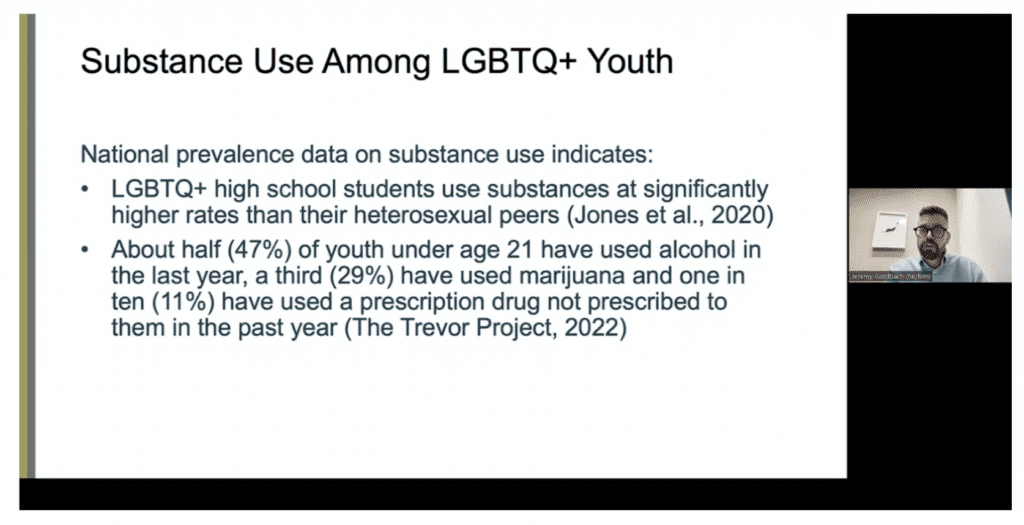 Additional resources like SAMHSA's Tips for Teens series can help give adults and teens quick and informative facts and resources to talk about topics like sedatives and opioids to alcohol and HIV. All factsheets are targeted towards underage youth and are easily digestible with links for further reading.
SAMHSA's 2023 theme for prevention month is, "Partners in Prevention." Equipped with a toolkit in hand, their social media posts can help target online engagement in conversations about prevention. Find resources for online campaigns along with supplementary articles on prevention.
This prevention month, acknowledge the people in your community who are doing their part in helping increase prevention efforts among youth and adults, and ask yourself what you can do to participate in these efforts.