Red Ribbon Week – Helping Youth Live Drug-Free 
October marks the start of National Youth Substance Use Prevention Month and it also includes the celebration of Red Ribbon Week, a national campaign started in the late 1980s to raise awareness about drug use, especially with children.  
From the Rhode Island Prevention Resource Center, "We celebrate Red Ribbon Week to affirm commitment to live drug-free and not further the endeavors of the drug cartels. We celebrate those who live without drugs as well as those who choose to leave drugs behind and live drug-free. We celebrate those who have and will overcome drug addiction and find a better life on the bright side of the world." 
Red Ribbon Week was started in 1985 when a special agent DEA officer was kidnapped and unalived by drug traffickers. To celebrate his life and pledge to live a drug-free life, friends and families of Officer Kiki Camarina started wearing red ribbons. In 1988, the campaign went National with the backing of First Lady Nancy Reagan and a proclamation from the U.S. Congress.  
Schools, community organizations, DEA departments, police departments, and more acknowledge Red Ribbon Week through advocacy, presentations, curriculum activities, and more.  
SAMHSA in their 'Talk, They Hear You' podcast recently interviewed parents and a DEA officer on the work they are doing to celebrate Red Ribbon Week and working to reduce overdose deaths in youth populations. Listen Now: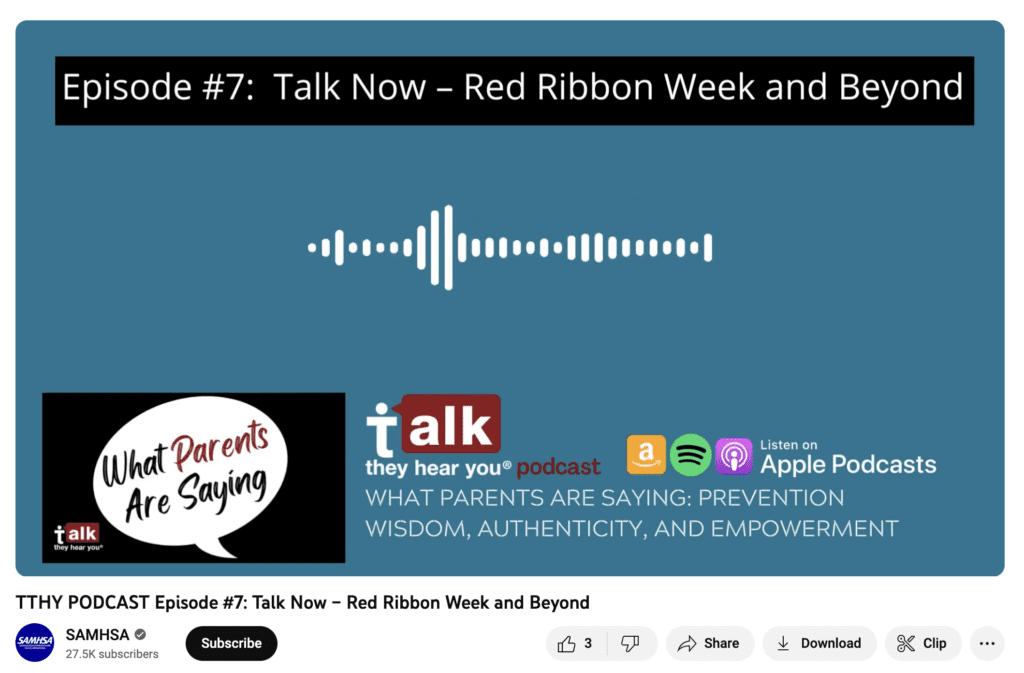 The 2023 Theme for Red Ribbon Week is 'Be Kind to Your Mind. Live Drug Free.' So far, the campaign has held photo contests, and given out scholarships to community members who go above and beyond to recognize Red Ribbon and help raise awareness about living a drug-free life and more. The most important piece that the campaign provides is resources for groups to access educational and engaging information to share with kids, adults, and those in recovery. Resource and curriculum pieces range across student age groups, meeting them where they are at with their knowledge.  
SAMHSA provides a plethora of educator and school community tools to use when addressing kids through their 'Talk. They Hear You.' campaign. This campaign was created in response to parents needing tools to talk to their children about drugs and how to live a drug-free life. The campaign now boasts a mobile application for parents and caregivers to learn how to start the conversation, podcasts featuring parents and teens on their experience and a variety of topics, and webinars and curriculum pieces for school administrators and educators. Check out all the tools SAMHSA provides in raising awareness and starting the conversation around living drug-free and the dangers of substance use.  
In addition, SAMHSA and the Drug Enforcement Agency (DEA) co-sponsor the National Red Ribbon Week PSA Contest where college and university students make short PSA videos encouraging students to live drug-free on campus. Winners receive financial compensation to continue drug awareness on campus.  
Celebrate Red Ribbon Week locally — Here are some ways to raise drug awareness: 
Learning: Take some time to learn new information on drugs. SAMHSA's free resource guides provide the latest data on drugs and alcohol along with who is most affected and where. The more you know, the better decision you'll make.  
Support: Wear a red ribbon on your shirt from Oct. 23 – Nov. 1 to show your support of the campaign.  
Conversation: Have a talk with your family or with kids you know well about substance use and why living a drug-free life is important. Have conversations together around a meal, in the car, or anywhere kids feel safe to ask questions and be heard.  
Advocate: If you're a parent or caregiver, reach out to your kids' school to see what activities or plans they have to celebrate Red Ribbon Week, if they have not heard of it, provide school administrators with information and activities that they can implement.