Drawing as a Communication Tool 101
Drawing as a Communication Tool 101
July 11 @ 11:00 am

-

12:00 pm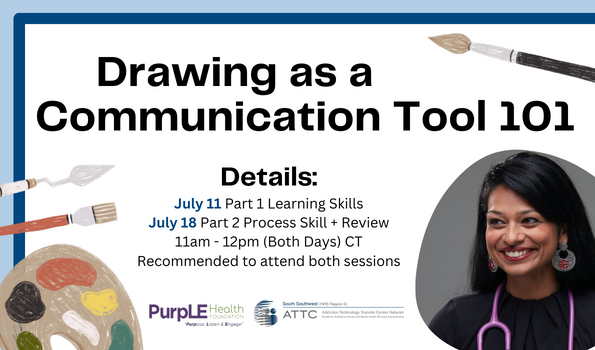 Join us for a fun event on July 11th and July 18th where we'll learn how
creative drawing exercises can benefit those we work with. 
The South Southwest Addiction Technology Transfer Center has identified the powerful impact of drawing as a communication tool in client-centered direct services and advocacy work. Accordingly, the goal of this introductory virtual workshop is for the Center's staff and collaborators, including peer navigators and students, to become familiar with drawing as a communication tool and to gain skills around integrating its use to enhance their work.
Hosted by PurpLE Health Foundation and in partnership with South Southwest ATTC
Details:
July 11th and July 18th
11:00 am – 12:00 pm Central Time
Virtual Webinar
Please attend both sessions, July 11th is Part 1, learning skills and July 18 is Part 2, processing those skills and review
Instructor:
Anita Ravi, MD, MPH, MSHP, FAAFP, is a board-certified family medicine physician, artist, and nationally recognized expert in health equity, gender-based violence, and trauma-informed care. She is the CEO and co-founder of PurpLE Health Foundation, a non-profit organization that addresses the comprehensive health of survivors of gender-based violence through a novel model of healthcare discovery and delivery. Dr. Ravi regularly writes, draws, and speaks at events across the country about how the healthcare system must radically change to meet the needs of people who have been systematically marginalized. Her portfolio includes multiple peer-reviewed research publications, policy development, and keynote speeches centered around the healthcare of historically underserved populations. Dr. Ravi also conducts health equity drawing workshops to facilitate communication with a variety of stakeholders, including healthcare professionals, law enforcement, and communities who have experienced incarceration. Her unique approach to healthcare delivery and advocacy has garnered national recognition, including being selected as a 2021 "40 Under 40" Leader in Minority Health by the National Minority Quality Forum, and coverage in the New York Times, Politico, Teen Vogue, and other key media outlets. Dr. Ravi is a graduate of Washington University in St. Louis, received her Medical Degree from the University of Michigan School of Medicine, her Master's in Public Health from Yale University, her Master's in Health Policy research from the University of Pennsylvania School of Medicine, and is a graduate of the Robert Wood Johnson Foundation/Veterans Affairs Clinical Scholars Fellowship Program.