Science of Substance Use, Medication Assisted Treatment, and Advocacy
Science of Substance Use, Medication Assisted Treatment, and Advocacy
July 17 @ 1:00 am

-

4:00 pm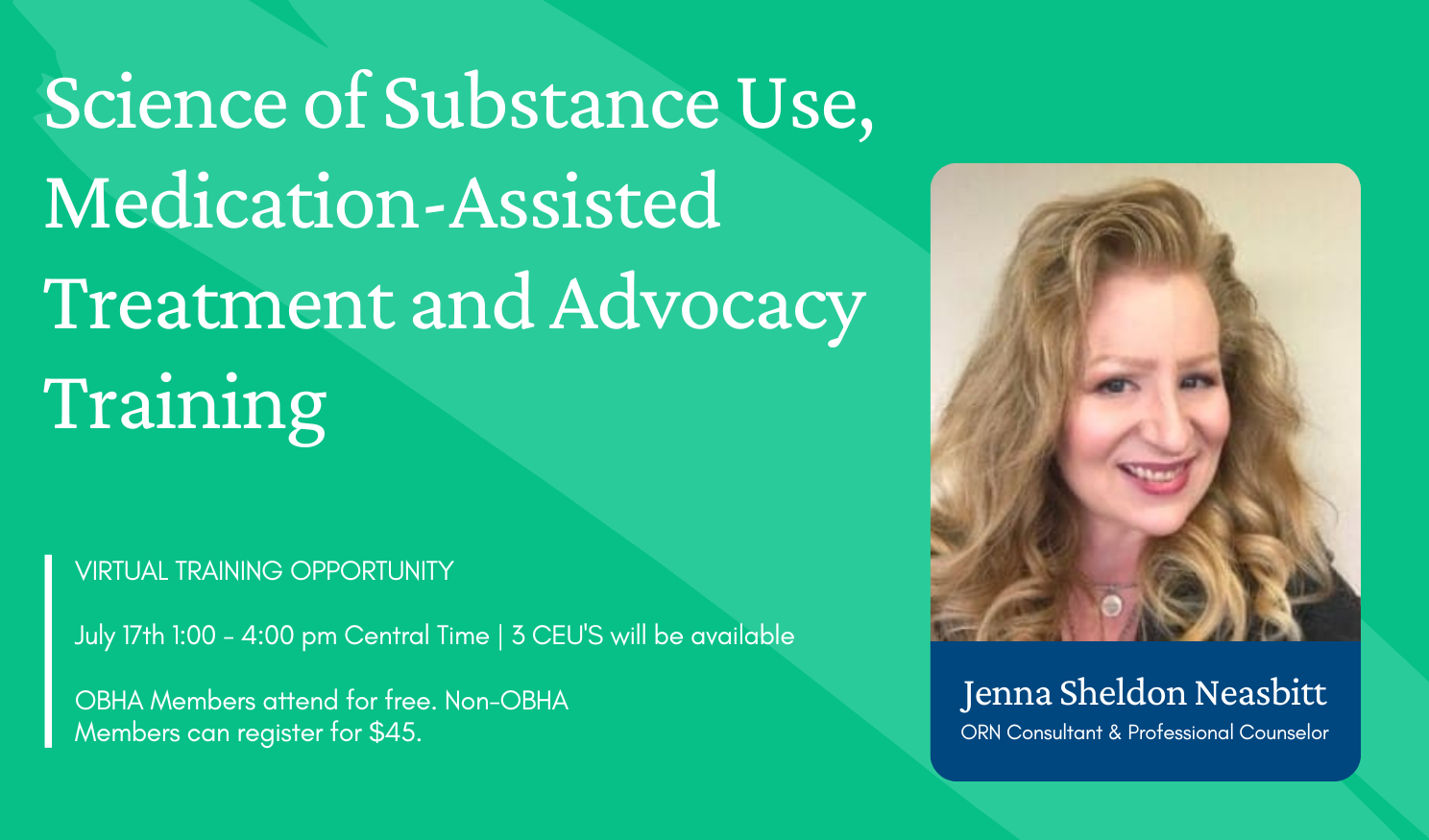 Science of Substance Use, Medication-Assisted Treatment and Advocacy Training
July 17th, 2023, 1:00 – 4:00 pm | Central Time
Virtual Training
Training Description:
This workshop will provide a summary of how the brain is impacted by substance use that is rooted in science to reduce the stigma of the disease. An overview of medications approved for treating substance use disorders will be offered, with a highlight on approved Medications for Opioid Use Disorder (OUD). Access to Medication-Assisted Treatment will be highlighted with a discussion on strategies that increase the quality of care and coordination of services.
Training Objectives:
▪ Deliver an introductory overview of the science of addiction and the impact of approved medications for opioid use disorder on the brain.
▪ Provide basic clinical information regarding medication-based therapies.
▪ Discuss the innovations and history of early medication-based treatments for opioid use disorder and the evolution of these approaches.
▪ Briefly summarize federal and state regulations for medication-based treatments, with guidance towards finding these regulations in their entirety.
▪ Define different types of advocacy and how to implement the training knowledge in practical settings.
Speaker Bio:
Jenna Sheldon Neasbitt, ORN Consultant & Professional Counselor
My training and education experience includes a variety of settings and audiences which include: new hire orientations, events to assist employees with understanding their insurance plans, Safety and Substance Use training for nurses, veteran service agencies, and oil and gas industry staff; Nurturing Parenting training for families and agencies, didactic education pertaining to recovery, skills development, vocational interest, clinical topics, managing co-occurring disorders, post-acute withdrawal, nutrition as recovery, navigating community resources, recovery-oriented planning, and guest lecturing in Graduate Social Work Policy and Interdisciplinary behavioral health programs.
My most recent experience includes co-developing and co-authoring the Peer Recovery Coach Certification Training for Recovery Caches in Texas, participating with CSAT in the development of, and certification as, a Medication Assisted Recovery Support Endorsement trainer for Recovery Coaches; Certified Methadone Advocate Trainer, and providing training and education about Medication Assisted Recovery to recovery houses as well as addiction professionals.
Details:
Virtual attendance is available. 3 CEU'S will be available to LPC, LCSW, LMFT, LADC, CPRSS, CPS, and CM's.
OBHA Members attend for free. Non-OBHA Members can register for $45.
About the Oklahoma Behavioral Health Association:
OKLAHOMA BEHAVIORAL HEALTH ASSOCIATION MISSION IS TO SERVE IT'S MEMBERS, PROMOTE ADVANCEMENT OF EFFECTIVE, HIGH-QUALITY BEHAVIORAL HEALTH AND ADDICTION TREATMENT SERVICES AND ADVOCATE FOR PEOPLE IN NEED OF CARE.