Mindfulness strategies for the Latinx immigrant population in the U.S.: Development and evaluation of an 8 week mindfulness trauma informed curriculum
Mindfulness strategies for the Latinx immigrant population in the U.S.: Development and evaluation of an 8 week mindfulness trauma informed curriculum
April 13 @ 1:00 pm

-

2:30 pm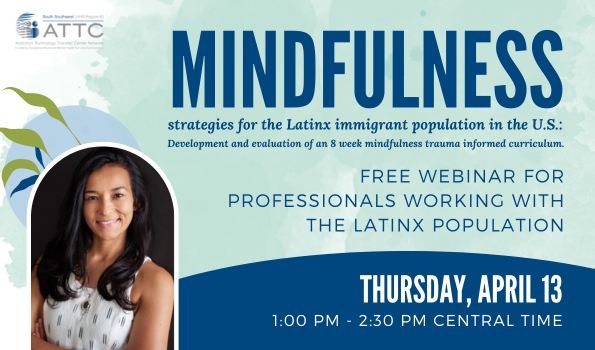 Thursday, April 13th 1:00 PM – 2:30 PM
Free training webinar hosted by South Southwest ATTC for
professionals working with the Latina population
___________________________________________________________________________
The purpose of this presentation is to get familiar with the concepts of mindfulness and how it can be useful for Latin immigrant women to manage uncertainty and reduce stress using an equity and inclusion framework. The training will teach specific strategies and techniques that participants can integrate during their daily life and at their place of work.
Learning Objectives:
Discuss familiar concepts related to mindfulness and their possible usefulness with Latina immigrants who face stressors that place them at risk for mental and co-occurring health disorders
Identify specific mindfulness strategies and techniques that may be useful in working with Latina immigrants.
Review findings from an 8-week mindfulness study, conducted by the presenter, to the Latina immigrant population in St. Louis and community partner organizations.
Presenter:
Diana C. Parra is a Research Assistant professor at the Brown School at Washington University in St. Louis, she is also a yoga and mindfulness teacher and a mindfulness facilitator for the Academy for Diversity, Equity and Inclusion. She focuses her research on the promotion of health and well-being through community-based programs for physical activity, nutrition, yoga, and mindfulness, geared towards marginalized, underrepresented, and oppressed minorities, particularly the Latinx immigrant population in the United States. Dr. Parra has significant experience mentoring students from underrepresented backgrounds and has a diverse background and training in non-traditional methodologies to assess physical activity and diets.
Continuing Education:
Participants will receive 1.5 FREE CEU hours based on attendance. This course has been approved for the following types of CEUs for National Association for Social Workers (NASW) and Texas Certification Board (TCBAP), an International Certification & Reciprocity Consortium (IC&RC) for counselor