Spotlight Webinar Series: The intersection of Disability, Addiction, and Recovery: A Focus on Multiply Marginalized People with Disabilities
Spotlight Webinar Series: The intersection of Disability, Addiction, and Recovery: A Focus on Multiply Marginalized People with Disabilities
March 29 @ 5:00 pm

-

6:30 pm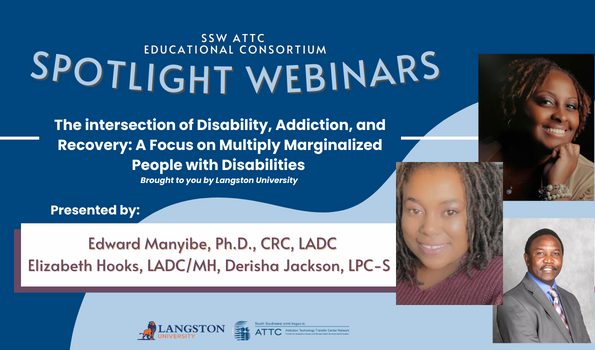 South Southwest ATTC's first Spotlight Webinar with our Educational Consortium partner school, Langston University, "The intersection of Disability, Addiction, and Recovery: A Focus on Multiply Marginalized People with Disabilities."
Wednesday, March 29th
5:00 – 6:30 pm (CT)
Register Below!
Facilitated by Edward Manyibe, Ph.D., CRC, LADC, and presented by Elizabeth Hooks, LADC/MH, and Derisha Jackson, LPC-S, the goal is to create awareness about the intersection of Disability, ADA, Addiction, and recovery. We will also discuss ways to use the intersectionality lenses to improve employment, community living, and health outcomes among the heterogenous people with disabilities who experience substance abuse problems.
Presenters: 
Elizabeth Hooks, LADC/MH has been in the Social Services field for 20 + years in various positions. She graduated with her undergraduate degree in Sociology from Langston University and received her Master's degree from the University of Phoenix in Organizational Management. She is currently a Licensed Drug and Alcohol Counselor with the Mental Health Designation as well as a licensure supervisor. She currently works as a compliance consultant for various counseling agencies throughout the state and has worked in several arrays of work cultures in the social services field.
Derisha Jackson, LPC-S was born and raised in Stockton, CA. Derisha relocated to Oklahoma to attend Langston University where she obtained a Bachelor's Degree in Psychology. She went on to further her education by attending graduate school at Langston University where she obtained a Dual Masters Degree in Rehabilitation Counseling and Visual Rehabilition. Derisha has been in the field for almost 10 years and is currently the Program Director for the Mental Health Program in Millwood Public Schools. Derisha is the founder of Beauty 4 Ashes, LLC which she uses to promote advocacy and awareness for Domestic Violence. Derisha's passion is helping children and women of color heal through their traumas and make something beautiful out of their tragedies.