Cultural Elements in Working with Hispanic, Latino, and Latinx Populations
Cultural Elements in Working with Hispanic, Latino, and Latinx Populations
March 8 @ 9:00 am

-

4:00 pm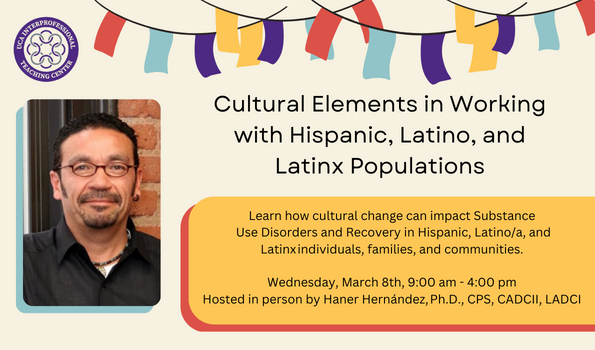 Learn how cultural change can impact Substance Use Disorders and Recovery in Hispanic, Latino/a, and Latinx individuals, families, and communities
Goals of the Training:  
Identify and address barriers faced by Hispanic, Latinos, Latinx communities and service providers regarding access, quality of care, and readiness for treatment and recovery;
Explain the relationship between culture and the continuum of care;
Understand the impact of immigration and migration on mental health, addiction, and family dynamics; and
Identify approaches to integrating culture into your practice.
(Participants will earn up to 6 contact hours)
Trainer: 
Haner Hernández, Ph.D., CPS, CADCII, LADCI
Dr. Hernández is Puerto Rican, bilingual and has worked for over 33 years in the health and human service field developing, implementing, and evaluating culturally and linguistically intelligent youth and adult health prevention, intervention, treatment, and recovery support programs.
Date and Time:
Wednesday, March 8th, 9:00 a.m. to 4:00 p.m. (1-hour break)
Location:
Interprofessional Teaching Center: Community Classroom
Enter the South facing entrance (toward the parking lot) of the Integrated Health Sciences building.  The community classroom will be to your right.
Important:
If interested in attending, please contact Mary Cook at mscook@austin.utexas.edu as the session has a lot of interest.
This training was developed in response to a need identified in Region 6 to provide students and behavioral health professionals with best practices for working with Hispanic, Latino, and Latinx clients. This event will be in person and space is limited to those who reside or provide services in Arkansas. For more information, please contact mscook@austin.utexas.edu.