The Road to Ending Stigma, Harm Reduction in Clinical and Community: 1. Introduction to Harm Reduction Settings
The Road to Ending Stigma, Harm Reduction in Clinical and Community: 1. Introduction to Harm Reduction Settings
March 1 @ 12:00 pm

-

1:00 pm

Free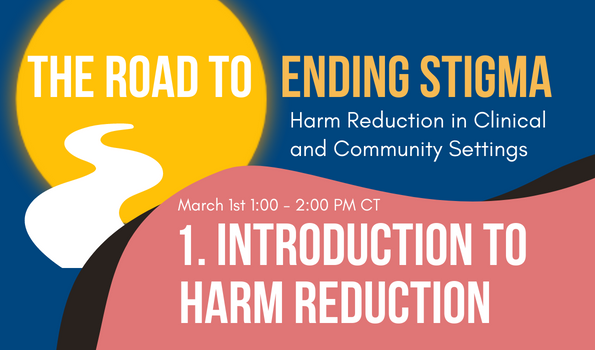 About:
Introducing a 6-Part Webinar Series addressing the unseen impact of stigma on substance use disorder (SUD) treatment and recovery, as well as the life-saving role of harm reduction strategies and programs. Learn from field experts and those with lived experience about best practices and novel approaches to improve health outcomes and save lives.
Target Audience:
All webinars are free and open to the public. Webinars are recommended for healthcare providers and staff as well as community partners.
Time:
Every webinar runs from 12:00 pm – 1:00 pm Central Time
1 – March 1, 2023: Introduction to Harm Reduction
2 – March 15, 2023: Trauma-Informed Care
3 – March 29, 2023: Supporting Perinatal Patients with Substance Use Disorders
4 – April 12, 2023: Healthcare Worker Burnout and Substance Use Disorder
5 – April 26, 2023: Taking a Syndemic Approach to Harm Reduction
6 – May 10, 2023: Reaching Underserved Populations
You can choose to attend one or more of the following sessions.
More information:
Contact sarah.schildecker@hhs.gov
Please share this Road to Ending Stigma Webinar Series Save the Date.pdf with your community.
Sponsored by the Region 6 Harm Reduction Workgroup, a group of federal, state, local, and community partners working to increase awareness of SUD and improve health outcomes for those living with SUD.